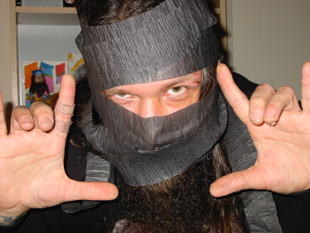 Iggy came from Massachusetts to the Bay Area 15 years ago in an orange Pinto station wagon covered in Grateful Dead stickers to be a drummer in a punk band (he doesn't actually play drums, but he owned a drum set, which was good enough). He got his first tattoo at Erno's legendary Fillmore Street shop and decided before the outline was done that he wanted to be a tattooer. Naively foregoing the traditional tattoo apprenticeship in favor of experimenting on gutterpunks and comic book store clerks, within four years, he was tattooing at Erno's shop himself.
For the past 11 years, he has worked around the Bay Area at a number of studios, including Everlasting, Lyle Tuttle's, Freddy Corbin's Tattoo 13, and Picture Machine Tattoo Parlor. Iggy works in all styles and enjoys collaborating with his clients to create tattoos that are personalized, well-crafted and fun. His particular areas of interest include Buddhist and Hindu-inspired artwork, pinup girls, large-scale Japanese work, quirky Americana, and graphic and photorealistic work.
Iggy is currently tattooing at Idle Hand Studio, less than a block away from where he got his first tattoo. He works Wednesday-Sunday from 1-9 p.m. and by appointment. Call 415-552-4353 to set up a consultation or drop by for a visit.